Book Reviews · 05/09/2016
Juventud
by Vanessa Blakeslee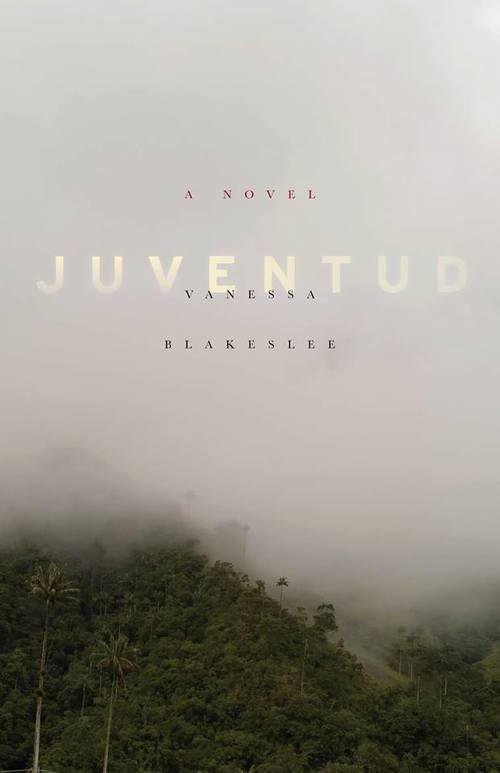 Curbside Splendor, 2015
Juventud shatters expectations in the most satisfying ways. The book is a first novel from Vanessa Blakeslee, whose 2014 story collection Train Shots won an IPPY Gold Medal. The work is also an interesting and well-executed departure for Curbside Splendor. While many of the press's other titles are geared toward gritty American life, the majority of Juventud takes place in Santiago de Cali, Colombia, during the violence of the late 1990s. The setting signals Blakeslee's ambition: a substantial amount of world building is required to produce a realistic picture of a recent past that must be accurate on all levels. Not an easy feat. But Blakeslee pulls it off with seeming ease. I found myself captivated by the novel's complex rendering of both Colombian life and a young girl's maturation into adulthood.
The narrative follows Mercedes, the only child of her wealthy landowner father who may or may not be involved in the various warring factions of Colombia. Mercedes meets and falls for Manuel, a young activist working to halt the violence between guerrillas and paramilitary groups. Mercedes is caught in the middle of peace protests in the streets and paramilitary generals stationed in her own home. Along the way, Mercedes covertly attempts to learn more about her father and her missing American mother, of whom she has only a single picture. The novel is full of distinctly drawn secondary characters—caretaker Inez, priest-in-training Emilio, bodyguard Fidel—who add to the plot's twists and turns. But throughout the story, Mercedes's personal discovery remains the central drive.
The novel is well realized and researched without being obscure. Juventud did conform to some of my own cursory understandings of Colombia, but more often than not it pleasantly surprised me. The book sent me scurrying to the internet on numerous occasions, and not because I needed more information to understand the text. Blakeslee's prose exudes an enthusiasm for recent Colombian affairs that is so undeniably infectious; I couldn't help but get interested. This is partly achieved by the nuanced portrayal of the factions and conflicts surrounding drugs and politics: there are no obvious good guys or bad guys. (For more, read Blakeslee's Research Notes.)
Mercedes's sexual discovery is handled surprisingly well. These scenes are sensual without becoming caricatures in a telenovela, an incredibly difficult needle to thread. Most writers flub sexual encounters with physical abstractions and vague crescendos. Blakeslee writes with raw honesty by using direct imagery of the body, quick and stark impressions of the experience from Mercedes's perspective: "So many mysteries unraveled that I had thought would take months to navigate once I did have a lover: his lips brushing to the back of my knee, my lower back, my thrusting against his hand, yanking down my underwear. Nakedness." There's a great deal of sex in the novel, but it never reads as over-the-top. The sexual scenes are an important story aspect that adds to rather than distracts from the overall trajectory of Mercedes's character, proof of Blakeslee's subtlety and skill.
It's part two of Juventud that truly vaults the novel from good to great. Without giving too much of the plot away, the second section involves Mercedes escaping to the United States where she spends her twenties attending universities and processing her Colombian childhood. The narrative moves into difficult and relatable adult territory: convoluted family dynamics, relationships rising and falling in painful waves, choices between lovers and careers. Blakeslee draws Mercedes's arduous growth from and out of youth. The reader learns that Colombia is the secondary subject of the book and that the novel truly revolves around Mercedes's maturation, allowing the title to take on a more sophisticated depth.
On the sentence level, Blakeslee is a master. Juventud depicts Colombia in all its facets: lush, disheveled, but always enticing. Even in the grittier parts of urban Cali, the sentences are striking and heavy on sensory detail: "I walked slowly, enjoying the dry April afternoon. A crowd spilled out of the great Cathedral de San Pedro, and the bells tolled three o'clock. Incense permeated the air, a scent faintly like burnt sugarcane mixed with the gritty Cali fumes of car exhaust." When Mercedes finally leaves Colombia, the reader is hit with the real sense that something has been lost, which is all due to Blakeslee's vivid portrayal. Along with Mercedes, we miss Colombia. Blakeslee uses tactile sentences to paint the chaotic world of her novel, but it's a chaotic world the reader desperately wants to visit.
Even a reader who knows nothing about Colombia will be fascinated by Juventud. But the book is far more than a history lesson. Characters are the real draw. Mercedes is a compelling protagonist: innocent without being ignorant, strong without being invulnerable. The entire novel leads up to an emotionally devastating final act in which Mercedes's worldview is shattered. My only slight criticism is that the reader is left to imagine how Mercedes might pull herself back together: I wanted Juventud to keep going, which is less a point of criticism and more a ringing endorsement. If you're interested in political intrigue, family drama, and riveting characters, pick up Vanessa Blakeslee's wonderful debut novel.
+++
Vanessa Blakeslee
's debut story collection,
Train Shots
, won the 2014
IPPY
Gold Medal in Short Fiction and was long-listed for the 2014 Frank O'Connor International Short Story Award. Vanessa's writing has appeared in the
Southern Review
, the
Paris Review Daily
, the
Globe and Mail, Kenyon Review Online
, and
Bustle
.
+
Caleb Tankersley's stories appear in Gargoyle, Midwestern Gothic, Storm Cellar, and others. He recently won the Big Sky, Small Prose contest from CutBank, and his chapbook Jesus Works the Night Shift was published in 2014 by Urban Farmhouse Press. He is a PhD candidate at The University of Southern Mississippi, where he is an Associate Editor for Mississippi Review.